A Space Supply Chain is a network of individuals and organizations that work together to produce and sell a product. From top to bottom, all aspects of manufacturing and commercializing are part of a supply chain. mu Space, a satellite manufacturer and satellite internet service provider, is building a space supply chain in its region in order to better the space economy with plans announced in a press conference earlier this year. 
A Space Supply Chain would be a significant upgrade for the Southeast Asian region, in terms of job creation, growth of economy and investment in higher level education. A space supply chain will help lower the cost of production, thus ultimately allowing organizations to sell their products at the optimal price. 
On top of that, the supply chain will also allow Southeast Asia to compete with European and American aerospace manufacturers, as those regions have had supply chains for many years and are the front-runners in this industry. Additionally, the level of production will improve due to involving many expert minds working together to build a high quality product. 
As mentioned above, mu Space Corp is planning to build a Space Supply Chain in the Southeast Asia region. The plan was announced in a press conference which was held earlier this year and was joined by both Airbus and GISTDA, two household names in the aerospace industry. The press conference demonstrated that a supply chain would help lower the cost of sending satellites to space and ultimately making it easier to get to space. mu Space CEO & CTO James Yenbamroong had the following to say regarding his plans: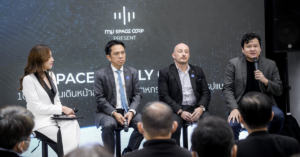 Mr. James Yenbamroong, CEO & CTO of mu Space, revealed:
"mu Space has achieved great success in the development of satellites and High Power Systems. The importance of investing in 3 areas that are important to build networks in the space industry are Human Capital Knowledge, Equipment & Machinery and Raw Materials. It also requires cooperation from the government and private sectors involved, in order to create a sustainable network in the aerospace industry, mu Space is committed to promoting and supporting young Start-Up groups to gain experience and knowledge. As a result of that, we hope to see the space industry business steadily expand in Thailand and Southeast Asia.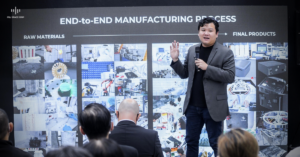 A space supply chain would therefore be advantageous to the economy of any region as the Space Industry continues to grow rapidly. According to economic reports on the space industry, there are major media outlets and leading analyst groups estimating the rise in value of the global space industry. Reports regarding the space economy by leading economists from the highly renowned Morgan Stanley suggest that by 2040 the aerospace industry will have a market value of $1-Trillion. Especially the smallsat market where reports from Euroconsult, a organization specializing in analyzing the space market, reports that from 2012 to 2021, the small satellite market was valued at $23.1 billion ,however it is expected that by 2022-2031 the total value will reach $84 billion, or more than four times compared to the previous decade. mu Space is therefore looking to expand its business and while doing so improving the space industry in its region.